Belt and Chain Guards
Our belt and chain guards are designed after the Cast Iron Cushman Eagle guards. The clutch guard is open on the side so you can see the clutch turning like on the Eagle. The chain guard is only one piece construction for the rear section of the Eagle chain guard.
Made of Stainless Steal then polished.
Polished - Belt Guard $179.00 plus S&H
Polished - CV Tech Clutch and Belt Guard
The CV Tech Belt Guard is a larger Version of the Open Belt Guard for the 44/40 Clutch as shown below $195.00 plus S&H
One Piece Polished Chain Guard $125.00 plus S&H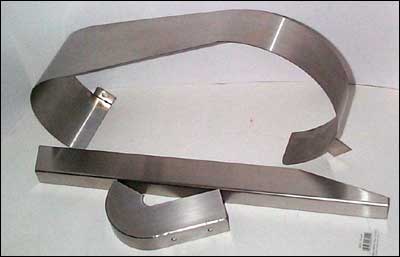 Standard guard shown above. CV Tech guard version larger.